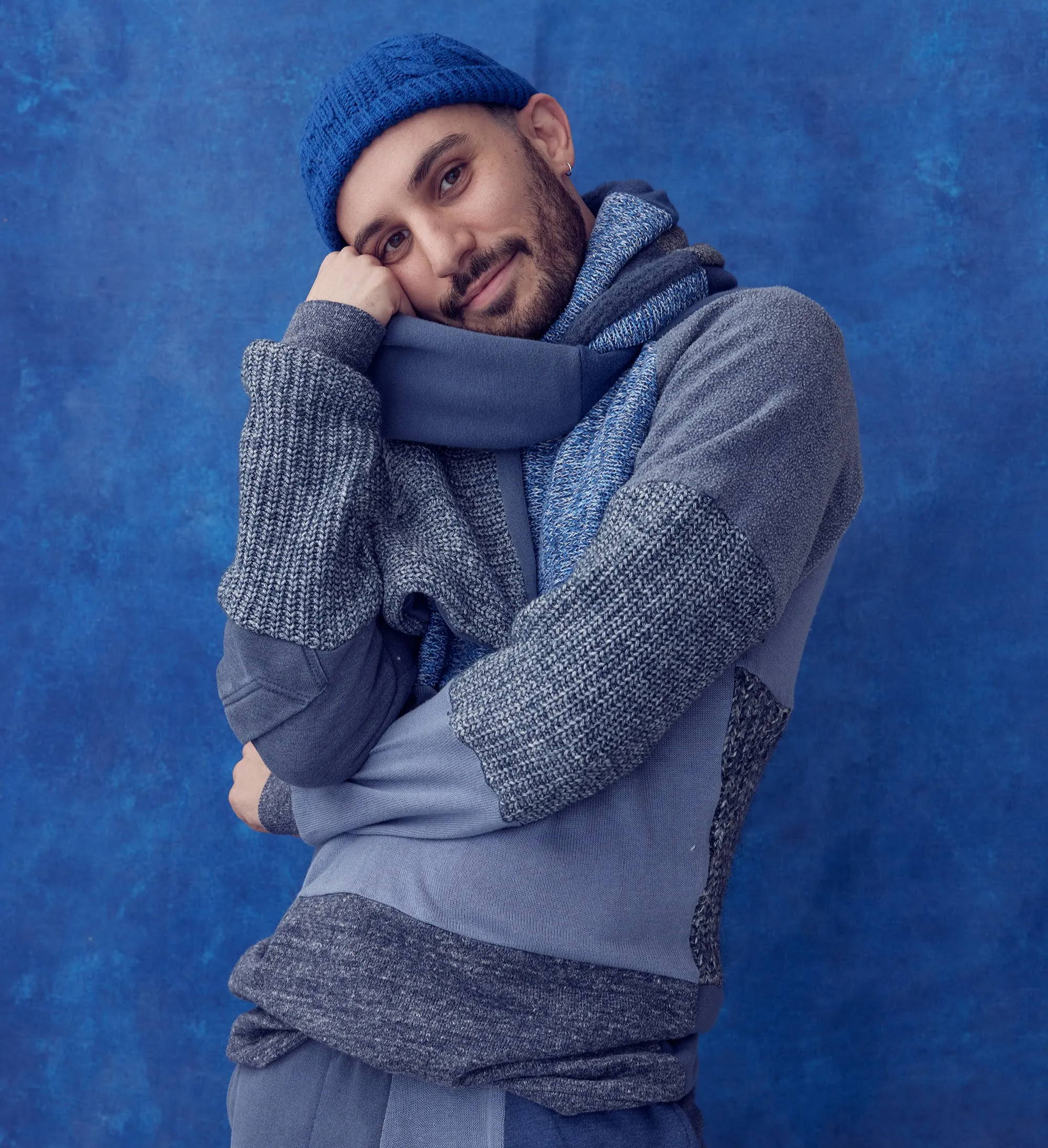 Zero Waste Daniel is a New York based clothing designer and zero-waste lifestyle pioneer who uses pre-consumer waste sourced from New York City's garment industry, as well as other hard-to-recycle materials, to create his line of genderless clothing and accessories that send nothing to landfills.
His story and brand first went viral in 2017 with more than 35 million views worldwide on NOW THIS, INSIDER, MASHABLE, and BUZZFEED.
Daniel continues to inspire change and make headlines by growing the mission of ending waste culture and redefining the meaning of "sustainable design" as a call to action for all who wish to participate.
As of 2023, his projects have been featured on CNN, THE BBC, and GOOD MORNING AMERICA; as well as in global publications such as FORBES, VOGUE, and THE NEW YORK TIMES.
"I don't make work that hurts people, or oppresses people, that makes someone hate their body or their face, or that pollutes someones water. I'm willing to work with what we've got, I don't care how long it takes, I care that you look good. I care that it's made here, that it's made fair." - ZWDaniel
Pollution is a problem in the fashion industry. The council for textile recycling said that more than 70 pounds of textiles per US citizen are going into landfills annually. That means over 21 BILLION pounds this year alone.
At ZWD, fabric waste is kept at zero. Pattern making techniques, appliqués, tiled mosaics and embellishments absorb one hundred percent of the textile goods that are brought into the make / shop. Each piece from zwd diverts roughly one pound of fabric from hitting landfill.  
Zero waste is the goal of both the garments we make and the studio we create in. We use recycled and recyclable materials in our shipping, packaging and office materials as well as a zero waste mindset in everyday company life by eliminating trash wherever possible. We are always improving the process and remaining conscious and aware of areas that have room to change.
To date, ZWD has collaborated with brands including Alice + Olivia, Pact, ThredUp, American Express, Google,Nissan as well as the New York City Department of Sanitation. To learn more about working with ZWD, contact us here.
For information about collecting, processing or recycling textile waste, visit the United States Environmental Protection Agency.
Living "zero waste" means sending as little to landfill as possible and avoiding excess packaging when buying consumer products. Living zero waste is not a contest or a challenge, it is a practice. It is about doing your best everyday and being realistic. Nobody is perfect. I believe what I believe, and do my best to live out my most authentic truth everyday.
Living zero waste is also a way to "vote" with your consumer dollars and make sure you are contributing to a regenerative economy and working with like minded businesses who value sustainability and equality as core principals of business and humanity. By avoiding single use items, as well as "fast" goods, we stop funding corporations built on wealth, gender and race disparities simply by shopping here versus there.
Enter your email and receive 10% off your first order.